HELLO – NEW WEBSITE – BONUS CLASSES! – TERM 2 DATES
Hello dear SunYogis,
Ah, my long overdue newsletter. Thank you so much for you patience and understanding.  
So here we are in 2022. Well….  at the end of term 1 heading into term 2 of 2022. Tomorrows Tuesday classes are the last classes for term 1.  Concept of time can be a strange sensation. I think we would all agree that time has felt even stranger over the last 2 years.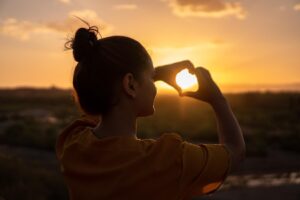 Personally for me, It's been a pretty huge 12-16 months. It has included: unexpectedly loosing my mother, relocating my elderly dad, my partner changing careers during covid and my daughter commencing year 12 this year.  In the spirit of "both and", I also understand these experiences have given me so much….
Many opportunities for growth & transitions.
A deeper experience and sensation than ever felt before of grief & joy, love, compassion, (Especially self compassion), patience and trust.
Gaining a more embodied understanding of the importance of my personal practices. 
And a renewed commitment to share through teaching everything I learn and continue to learn. All that is yoga, bioenergetics & embodiment. All that helps us to bridge the gap between ancient wisdom & modern science
A revised intention to  "Love myself enough to find this vibration, this sensation, in my body, everyday".
I want you all to know just how much I appreciate and enjoy the time that we get to practice and share life together. There are countless precious moments. Whether it be in our online classes and sessions, our face to face classes, in messages, emails, or over coffee conversations. I am grateful for all of it. 
Oh, and just incase you didn't notice, I've also been working on a new website;  getting my head around the changes there too, which include how I deliver my newsletter.  Thanks to the fabulous Nat and Christina from PixelPencil.co for all of their work and support as we went through the process. They are both such beautiful humans. 
I feel the desire to say thank you to all my fabulous students by adding a couple of bonus classes. These will be free if you are enrolled for the term. Casual fee of $22 applies otherwise. 
Thursday 7th April (this week) online at 9.30am. The same link as all term. If you don't have the link please email or text me.
Saturday morning Albion class 9th April 8.00am -9.20am. Bookings essential. Please note the earlier time (the centre has a prior booking) & email or text me your intention to attend. Even if it is last minute.
I look forward to our remaining classes for the term & a good break so I can fill my cup before we return to practices together for term 2. 
For those of you doing Thursday online… here is the registration link.
When: May 5- June 23 , 2022 09:30 AM Canberra, Melbourne, Sydney 
Register in advance for this meeting:
https://us02web.zoom.us/meeting/register/tZYuf-qvqzIsHdNTrMnmhUR9aEP4_4aYGZQb 
After registering, you will receive a confirmation email containing information about joining the meeting.
I will email this to all enrolees the night before the class also. 
And last but not least….here is a little poem that I shared in class from one of my favourite yogi poets, Danna Faulds. 
Yogas Reach – Danna Faulds

It is a wonder how a simple stretch deepens breath,
And an elegantly held pose grows to touch the whole of us.
Like sugar stirred into tea, the potency of yoga spreads
From body into mind
And here, revealing an ocean of energy that heals and opens.
Holds you close, and sets you free.
All in the same moment.
Namaste,
Lisa 
Term dates & fees
Term 2 will be an 8 week term commencing Tuesday 3rd May through to Sat 25th June. 
The second Saturday class will only run if numbers allow. Please enrol now if you want this class to go ahead. Let me know if it is your preference to the earlier class,  your only option for Sat and/or if you are wanting to request the online option. 
Rates per class

8 Week Term 

Casual drop in 

Bookings required for in person – $22

1 class p/week

$19/17 p/class

$152/ $136 conc.

2 classes p/week

$17/15.5 p/class

$272/ $248 conc.

3 classes + p/w

$15.5/$14 p/class

$372/ $336 conc.